Invasive Species
There over 300 species classified as as invasive. In this section of the application yo find out who they are, the damage they cause and what methods are being made to eradicate them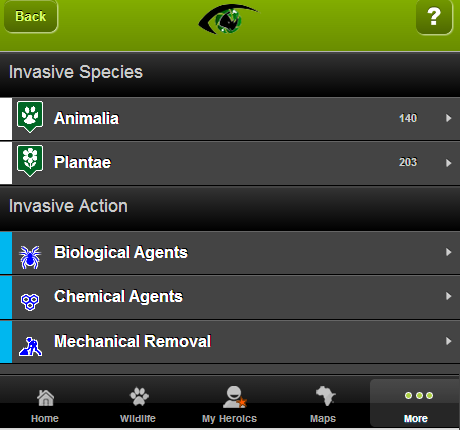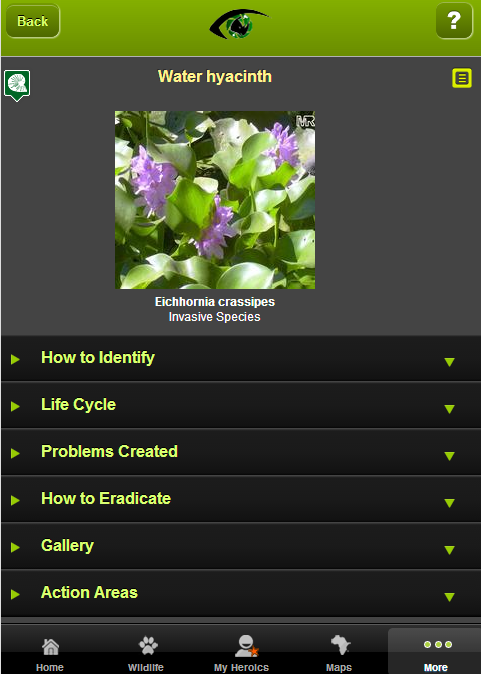 Creating Action Areas
There are numerous organisations out there helping to control the spread of these pests - government departments, NGO's, third party contractors, charities. Wouldn't it be great if we could see all of these group's actions on one map? Now creating a combined strategy is beyond the scope of this application but we can help a little by getting the action sites recorded and details of what they are doing.So if you are involved this is what you do
Register Your Organisation

Record the location of your action areas

Record the species you are trying to eradicate in these areas

Record how you are trying to eradicate.

Register Your Organisation
Wildlife Hero has a directory of companies that are environmentally friendly. So this is where your group should be listed – Heroic Groups.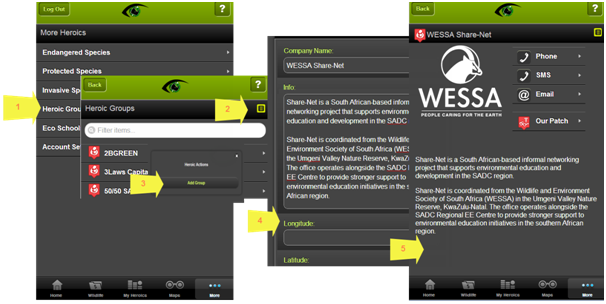 Choose Heroic Groups
Click the Heroic Action button in the top right corner to reveal the options

Only one option at the moment, but that is the one you need

Enter some basic data about your group and what you are doing on your groups patch

You're up and running
Add a Patch (Action Area)
Wildlife Hero currently only supports one patch but this will be extended shortly. Your patch does not have to be centred on your group's office or physical location – it can be anywhere where you wish to record data.
Touch the 'Our Patch'

Drag the 'Our Patch' icon to the location

Expand the circle to the desired patch radius

Touch the Heroic Actions button and save your data

Your done
Add Sightings
Wildlife Hero makes it easy for you to add recordings to your patch – particularly plants.

Click the Heroic Action button and choose 'Add a Sighting'

Type three or more letters of the species name and choose from the list

Complete the recording form - notice your geo-location is not being used but the center of your map

Use the 'Check Location' button to set the exact location if needed

Your done