Custom Solutions
Wildlife Hero has set up its bespoke applications division to meet clients' mobile needs in Africa. It has been operating in the mobile application and digital learning space for the last ten years working with clients such as Standard & Poor's, Morningstar, Financial Times, Aviva, Singapore government and more recently WESSA, GBIF and SANBI
We specialize in mobile websites that are rich, dynamic and compatible with all leading browsers and platforms, ensuring they integrate smoothly with your existing online presence to provide visitors with a cohesive, unified experience.
Wildlife Hero is a local company using local resources but has access to hundreds of additional experienced mobile developers in India through its partnership with Web Spiders India. 
With expert management consultants and mobile designers, we can visualise, design and develop custom solutions that align with your business objectives and meet your future requirements. We offer mobile solutions that will transform your current hard copy content into accessible content that can be consumed how users want and when they want.
Our Approach
Wildlife Hero prides itself on gaining understanding of the client's requirement not only now but also in the future. This ensures that we choose the correct technology option with an awareness of development trends.
We adopt the common principles as a multi-layered application consisting of presentation, business and data layers. We first determine the need for a thin Web-based client or a rich client. If you require a rich client, the business and data services layers are likely to be located on the device itself. If the requirement is a thin client, all of the layers will be located on a server. The diagram below illustrates common rich client mobile application architecture with components grouped by areas of concern.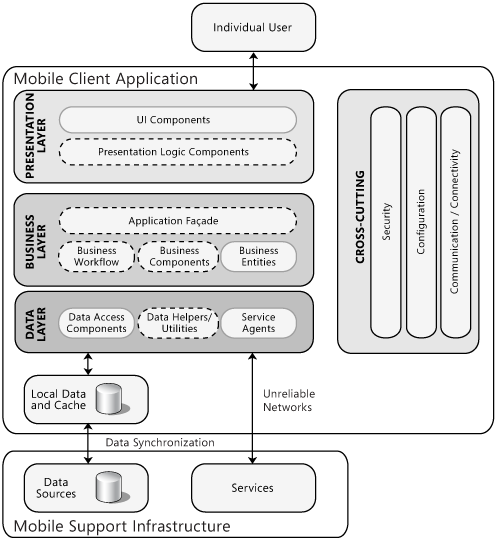 The requirement is determined through a series of face-to-face meetings and review of existing documentation. During this phase, we will be looking to determine direction on key aspects – what devices are to be supported, offline – online considerations and the user interface. On receipt of all inputs, we will produce a scope document, which will detail your specific requirements. We will also plan the project and let you know what milestones will require your further input in order for us to progress through our development process.
From the scope document we'll present a "blueprint" of your solution to you in the form of a digital storyboard – the first initiation of the presentation layer. You will have an opportunity to review and add input into this storyboard before we progress into the development phase of the project. Typically, we work on-site to ensure this important step is fully understood and agreed by all parties.
We will then develop your solution in line with your technology requirements. You will be able to be involved as much as you feel comfortable with during this process. We'll take your corporate branding guidelines into account in the design of your solution and you will be asked to approve this before we begin the development work.
We will provide regular status updates and facilitate regular face-to-face meetings (if geographically possible) throughout your digital journey. In order to achieve maximum results and to produce an effective solution, it's important that we include you as part of our team. It's a symbiotic relationship that is fundamental to the success of the project.
We follow ISO 9000 standards of quality assurance and your digital solution will pass through our internal quality assurance process.
With your permission, we'll involve your co-workers in the development lifecycle and our user acceptance testing process in order to deliver you the most effective learning solution.
You will be given an opportunity to review and feedback on a draft of the solution before we deliver it to you. We can deliver in multiple formats and output the final version to be compatible with your systems and devices.
Post-delivery, we are able to help you evaluate the effeteness of your application and the return of investment through metrics and user feedback.